Latest news


15-11-2018 :
Persistense will play @ Musicon - Den Haag (NL) November 24th 2018
Persistense will play @ JC Todo - Best (NL) November 30th 2018

17-07-2018:
July 21th 2018 Persistense will play @ Agressive Music Fest 2018 (CZ)
July 20th 2018 Persistense will play with Dead End (NL) & Misanthropia (NL) @ Club Orthodox (CZ)
31-10-2017:
November 4th 2017

Persistense @ StudioGonz - Gouda (NL) / Death From Within w/ Disquiet, Bloodphemy, Braincasket a.o
13-10-2017:
October 14th 2017
Persistense @ De Brigant - Arnhem (NL) with Neocaesar
02-09-2017:
September 3rd 2017
Persistense @ Jan Hertog Live Club - Maasmechelen (BE) with Fleshcrawl (DE)

15-04-2017:
April 15th 2017
Graceless, Paper Doll Decay, Persistense, Splinterbomb, Black Rabbit & Sepiroth
@ WPC Nederland 3 - Wateringen (NL)
Local Loudness Festival
08-03-2017:
Friday March 17th 2017
Largemetal, Persistens & The Invict @ Willem Twee - Den Bosch (NL)
22-12-2016:
Friday 23th December 2016
God is Death Fest 2016 with Persistense (NL), Paper Doll Decay (NL), Crystal Methal (BE)
& Inferum (NL) @ Todo - Best (NL)
23-10-2016:

Saturday November 5th 2016:
Persistense & Splinterbomb @ Cafe De Trap Af - Papendrecht (NL)
30-09-2016:
Saturday October 1st 2016:
Persistense & Grim Ordeal @ Cafe Canada- Stekene (BE)
17-09-2016:
Saturday September 24th 2016 :
Persistense, Grim Ordeal & Disquiet @ Poppodium Hedon - Zwolle (NL)
Hedon Zwaar
24-04-2016:
The Prophecy Agency presents Death / Thrash Alliance 2016

2 brutal death / thrash bands join forces :

PERSISTENSE & GRIM ORDEAL

May 14th 2016 @ De Tavenu - Waalwijk
06-04-2016
The Prophecy Agency will work together with Dutch death/thrash band Grim Ordeal.

Grim Ordeal is a hard working band,enthusiastic and has a lot of experience when it comes to playing on stage . They already played with Malevolent Creation, Izegrim, Sacred Reich, The Lucifer Principle, Erebus, The Monolith Deathcult and many more.
In 2012 Grim Ordeal played as direct support for Sacred Reich in Hedon, Zwolle (NL).
For their latest 9-track album, 'A Tragedy Unfolds', they worked together with JB van der Wal (Herder/Aborted) .
This album recieved lots of very positive reviews.
Power of Metal.DK
"This band has definitely metal core roots and influences in their music, but they add lots of groove and thrash influences to it. Sure there are indeed a lot more bands doing the same, but not all with success. Grim Ordeal is a band that combines these influences in a rather unique way.The final track combines very fast parts with slower ones and has some Machine Head beeping guitar sounds in it and with the brutal singing of Otto all over it, the song sounds like Machine Head jamming with Gorefest. Fans of the bands that I mentioned above have to check this out for certain."
Aardschok
(Dutch review)
" Twee jaar geleden verscheen van Grim Ordeal een EP met daarop drie nummers. Nu is er een volledig album en het resultaat mag er zijn. Het album is netjes uitgevoerd in digipack met puikartwork en dito tekstboekje. Ook muzikaal is er een behoorlijke sprong voorwaarts gemaakt. 'A Tragedy Unfolds' bevat technische brute thrash metal met gevarieerde composities. JB vd Wal, die we kennen van onder meer Aborted en Herder, heeft de productie op zich genomen en ook dat is,vergeleken met de eerder uitgebrachte EP, een riante verbetering. De drumpartijen klinken zoals het hoort en het gitaarwerk trekt het niveau van dit album omhoog. De groovende en melodieuze partijen vliegen je om de oren. Gecombineerd met mooie tempowisselingen heeft dat geresulteerd
in een aanrader voor liefhebbers van complexe, melodieuze thrash metal."


We at The Prophecy Agency are looking forward working with this great band !
01-03-2016
Friday March 4th Persistense & Bring On The Bloodshed @ W2 - Den Bosch
29-01-2016

On Saturday 30th 2016 Nevermind, Splinterbomb & Persistense
play @ JC De Poort - Den Bosch
29-01-2016
Persistense is the first band confirmed to play at God Is Dead Fest 2016
@ Odeon - Veldhoven (NL)
December 23rd 2016

30-10-2015
On October 31st 2015 Persistense will play at
Monster Metal Halloween Party in Stadtschreiber- Gronau (DE)
with Insane Mind (DE) & Ann My Dice (NL)
30-09-2015
October 2nd 2015 Persistense will play @ The Cave - Amsterdam (NL)
with Defazer & The Invict

16-06-2015

2 new gigs for Persistense :
July 18th 2015 @ Muziekcafe Lohengrin - Den Bosch (NL)
with The Invict (NL)
October 2nd 2015 @ The Cave - Amsterdam (NL)
22-05-2015
May 24th 2015 Persistense will play with Bloodsin (NL) & Engraved (NL) @ Rockcafe Spider - Balk (NL)
flyer credit : Ronald Visser
06-01-2015
April 12th 2015 Persistense will play with Chugger (SE) @ The Jack - Eindhoven (NL)
25-11-2014

2 upcoming gigs for Persistense :
November 29th 2014 @ Musicon - Den Haag (NL) with
Selfmachine & Bloid

December 13th 2014 @ P79 - Den Bosch (NL)
04-10-2014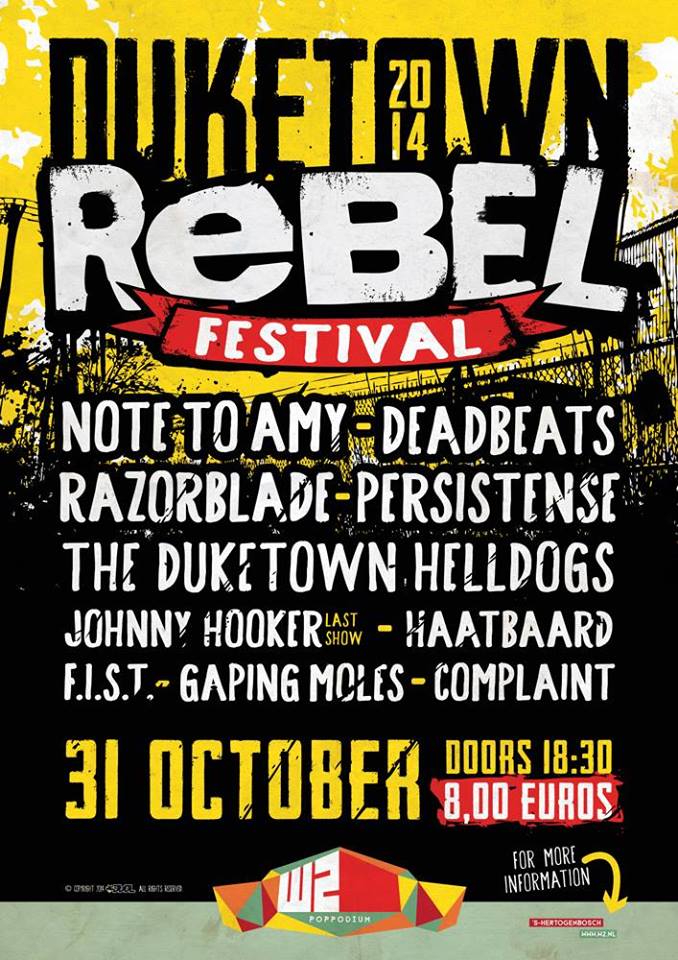 New gigs Persistense
Dutch metalband Persistense has 3 new shows confirmed:
October 18th 2014 @ Blanko - Emmen (NL) with Bloodgod & Project Pain
October 31rd 2014 @ W2 - 's-Hertogenbosch (NL) (more info t.b.a)
November 29th 2014 @ Musicon - Den Haag (NL) with Selfmachine & Bloid